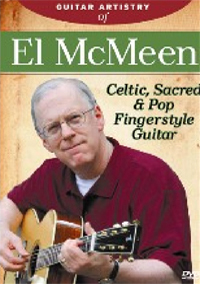 Guitar Artistry of El McMeen– DVD (90 min.)
In this DVD, El shares his insights on music and guitar playing, along with his evocative and distinctive guitar style. His music ranges from Celtic songs and dance tunes, through alternating-bass Americana, sacred music, pop tunes and his original compositions.
1. The Fair Flower of Northumberland*/Casadh*
2. Medley: Believe Me, If All Those Endearing Young Charms*/ Ned of the Hill*
3. Medley: Morgan Magan*/Carolan's Receipt*
4. Medley: October Winds*/My Mary of the Curling Hair*
5. Medley: Lament for Owen Roe O'Neill*/The Rights of Man*/The Kid on the Mountain*
6. Jock O'Hazeldean*
7. Hector the Hero*
8. Medley: Will the Circle Be Unbroken*/Joshua Fit the Battle of Jericho*, Holy Manna*
9. Medley: Fairest Lord Jesus*/Give Me Jesus*
10. Just As I Am*
11. Medley: Be Thou My Vision*/Amazing Grace*
12. Hyfrydol*
13. Le Mans*
14. Song for Sheila*
15. Perfidia
16. My Girl
17. Still the One
18. Medley: Working My Way Back to You/There Is a Rose in Spanish Harlem
19. Drifting Too Far from the Shore
[divider top="1″ bottom="0″][/divider]
PDF files of the tab/music of those tunes marked with an astric (*) are included on the DVD.
[divider top="1″ bottom="2″][/divider]