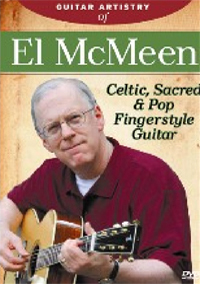 Guitar Artistry of El McMeen – DVD1> 90-minute DVD of El's performance of 30 tunes,
together with full interview clips. Beautifully
photographed with multiple cameras.
Includes tabs and music for most tunes.
[DVD] $25.00 + Shipping
Guitar Odyssey – DVD
Live Concert DVD of El McMeen and Larry Pattis.
Archival recording for the Charlotte's
Web Concert Series, Rockford IL.
[DVD] $25.00 + Shipping
Irish Guitar Encores – Instructional DVD
[DVD] $29.00 + Shipping